Vibratory Bowl Feeders for Automated Assembly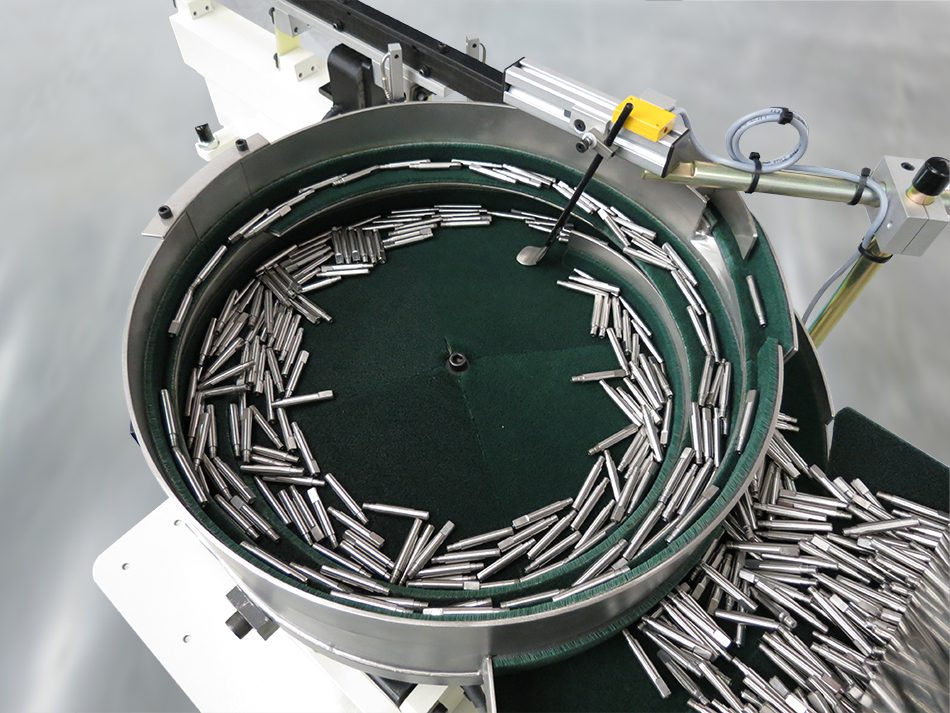 In a recent article in Assembly Magazine, the question was posed: "What is the state of vibratory bowl feeders used in automated assembly?"
At Performance Feeders, we answer this question in two ways. One way is geography. Since the early 1950s, Indiana has traditionally had the strongest presence in the vibratory feeder bowl market though that is changing. Although based in Florida now, Performance Feeders was originally headquartered in the Indianapolis area in the early 1970s and did not move to its current location in Oldsmar, Florida until 2007. Performance Feeders serves a rapidly growing clientele which includes manufacturers in the automotive, medical, aerospace, and consumer products industries. Demand for specialty products such as custom vibratory feeder bowls which are fully integrated with belt conveyors that fit seamlessly into existing automated manufacturing systems is strong and growing.
The other answer to this question concerns the market conditions for vibratory feeders, which is strong and growing, due in large part to the 'reshoring' of many manufacturing operations. Demand has increased in the US for American-made automated assembly components such as vibratory feeder bowls and conveyor belt systems. Greg Pflum, president of Performance Feeders Inc. remarked to Assembly Magazine, "The market for vibratory bowl feeders is vibrant and continues to increase to keep pace with growing production demands. One major reason for this is manufacturers that have reshored know it's necessary to automate assembly and minimize production costs."
The article references a complex vibratory feed system that was built by Performance Feeders to feed multiple styles of cylindrical plastic parts at a rate of 300 parts per minute. The design of this vibratory feeder illustrates how Performance Feeders can achieve very high feed rates with a vibratory feeder bowl. The bowl orients three styles of cylindrical plastic parts so the open cup end is facing up. A 10-line Vibratory Track Feeder accumulates hundreds of parts before releasing them for further assembly. Measuring 30 inches in diameter, the bowl features outside tooling that feeds 300 parts per minute. The vibratory bowl is specifically designed to prevent parts from lodging in cavities and being left in the bowl when changing the style of part being fed.
Vibratory bowl feeders also work extremely well in simple automated applications, such as orienting one type of part and feeding it into the next step in the manufacturing process. This flexibility is the main reason feeder bowls are so often used to singulate and orient bulk parts. Vibratory feeders bowls are simple to operate and with the proper care and maintenance, will provide years of trouble-free service.
Vibratory bowl feeders are categorized according to the location of their feed tooling. Inside-tooled bowls have a cascade or conical (like a wok) shape. Bowls featuring outside tooling have a straight-wall design. The tooling is made of metal and welded or bolted to the bowl, depending on its material, size and the part being fed. Cascade bowls are more often used for feeding simple to moderately complex parts because they have a limited tooling area. Outside track bowls are preferred for orienting more complex parts. Performance Feeders works with you using Solid Works and 3D cad modeling to design a vibratory feeder bowl that is tooled correctly for your particular production need and will integrate seamlessly to your existing automated system without rework.
Although vibratory bowls are usually tooled to only feed a specific part, there are several ways to increase their flexibility. The bowl surface can be lined with material such as the Brushlon shown in the image accompanying this article that protects fragile parts from damage while also reducing the noise level of the working vibratory bowl. As part of our design process, we request a sample of the types of parts you are feeding in production in order to ensure that the bowl will meet your needs when placed into your automated manufacturing process. Most clients begin the process of working with us by filling out our detailed Vibratory Feeder Bowl Quote Request. Our engineers will follow up with you within 12-24 hours with any questions and concerns about your quote request before beginning the design process and requesting a parts sample for final testing. No system leaves our facility prior to a complete test run with your parts sample that ensures that our vibratory feeder bowls and conveyor belt systems will run as you expect upon delivery. Before shipping, we provide you with a video of your equipment running with your parts samples so that any final adjustments can be made prior to shipping.
A feeder bowl is for feeding parts, not storing them. Do not design your system so the operator merely dumps parts and leaves until the bowl is nearly empty. Rely on a prefeeder or hopper to provide a continuous stream of parts into your process. Overfilling a bowl causes frequent jamming, but too few parts will cause an inadequate feed rate output. Many systems require a hopper, elevator or prefeeder to store and dump parts into the vibratory bowl. There may also be one or more straight-line vibratory tracks to move parts smoothly through your process. Vision-aided vibratory feeder bowls can detect and reject bad parts according to your specification. Incorrectly oriented parts are recirculated through the system to correct the orientation prior to feeding them into the next step.
Performance Feeders provides training and support for all of our automated assembly products after the sale. Our engineers will work with you to ensure the initial installation goes smoothly and to help you maintain your equipment properly over time. It is important to establish and stick to a regular cleaning and maintenance schedule. This might include carefully wiping down or using air to blow out all bowl areas to remove any dust and debris. Feeders that handle parts with a coating on them need extra cleaning. The goal is to achieve consistent vibratory feeder performance. If the feeder bowl runs well in the morning but poorly later in the day, you may need to check for the temperature, voltage or frequency differences on the assembly line. Make sure there is enough clearance to allow parts to move forward without jamming between the tracks.
It is important to keep the feeder drive tuned. When it is not correctly tuned, there will be feeding difficulties that cause issues at later steps in your process. If you are experiencing difficulties with your vibratory feeder bowl after installation, we will work with you to troubleshoot the issue, help you tune and correct your feeder bowl and ensure optimal run-time for your equipment.
Performance Feeders specializes in integrated systems for a wide-range of industries that include medical manufacturing, automotive manufacturing, industrial products fabrication, food packaging and electronics manufacturing. We design and build your custom vibratory feeder bowl system in-house – nothing is outsourced or off-shored. With over 40 years of automated assembly experience, we can help you design a high-quality, cost-effective solution for your manufacturing process and parts feeding needs that keeps your products moving!
View a sample of our custom Vibratory Feeder Bowl Applications: