Alternative Feeding Methods
In any given manufacturing environment, there are often instances where a traditional vibratory bowl feeder or centrifugal feed system might not work for a particular assembly station or process due to limitations. In these cases, Performance Feeders can often design and build an Alternative Feed System to meet your requirements.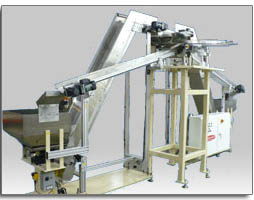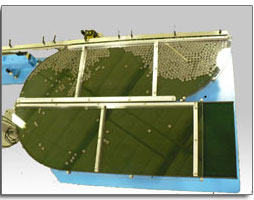 Orienting Elevator
Orienting Elevators are one example of an Alternative Feed System. Performance Feeders can provide this type of system to address a number of common manufacturing issues such as:
Station part delivery height
Non-ergonomic station load height
Excessive parts marking
Limited linear floor space
Vibratory Corral Feeder
Another example of a Performance Feeders Alternative Feed System is a Vibratory Corral Feeder. This system can be used where storage and delivery of a part in orientation is necessary but the parts are already pre-oriented and don't require use of a traditional supply hopper for storage and bowl feeder for orientation.
Whatever your unique feeding application may be, give us a call. Performance Feeders can design and build a system to meet your unique requirements.
Downloads
   Performance Feeders Brochure
   Performance Feeders Tri-Fold Brochure