Bulk Storage and Elevator System for Food Processing
Jump to: System Specifications || Quote Request Form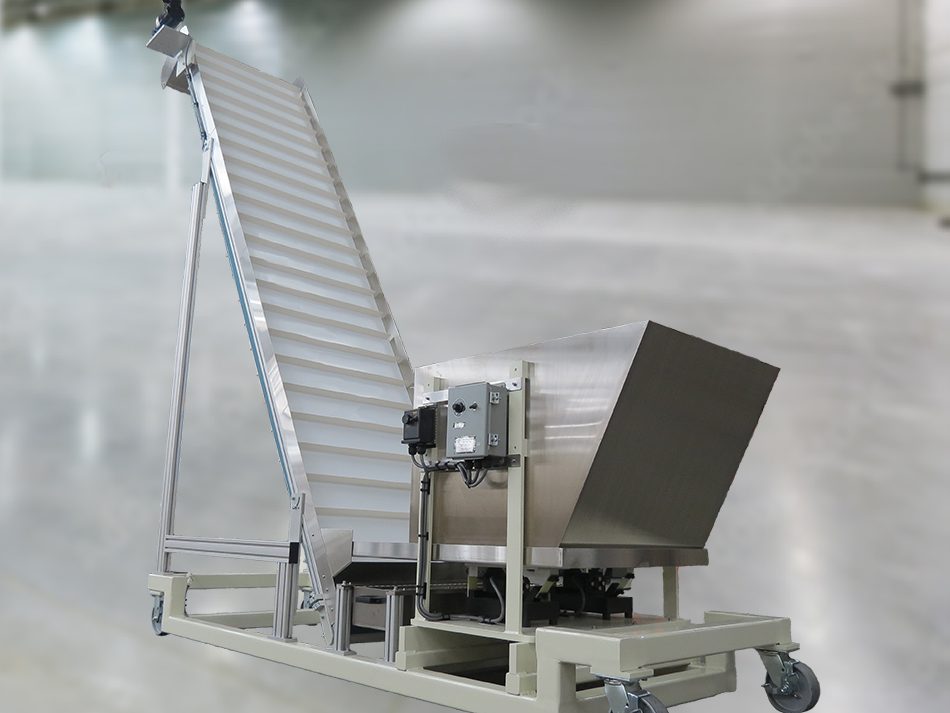 This system was designed for a food manufacturer who needed to move a whole-grain snack product to a packaging operation, which required the product to be delivered 10′ off the floor. The manufacturer needed bulk product storage at floor level and a way to remove as much small and broken pieces of product as possible before moving into the packaging operation.
System specifications
Conveyor belt speed: 9 – 32 feet per minute, variable speed.
Input voltage: 120V, 60 Hz.
Incline belt conveyor:

Auto-Kinetics Model 55 Heavy-Duty belt conveyor, 800mm wide x 149″ long.
FDA-approved belt with 40mm high cleats on 6″ centers.
Custom end drive module, 1/4 HP motor, 130V DC.
Polished stainless steel side rails, entrance bin and exit chute.
Extruded aluminum incline stands mounted to system frame.

Bulk supply hopper:

Custom polished stainless steel 12 cu. ft. bin.
Custom polished stainless steel 30″ wide vibratory tray with perforated discharge area for small particle removal
Powered by two vibratory hopper drivers.

Particle collection system:

Polished stainless steel tray under perforated supply hopper discharge tray.
Tray slides out of frame by hand for easy cleaning.

System frame:

3″ steel tubing, painted.
Casters with FDA-approved wheels for portability.

Controls provided:

PF-1R for bulk storage hopper.
PF-111 DCPM for incline belt conveyor.