Vibratory Feeder with Rotary Inspection
Jump to: System Specifications || Quote Request Form || Video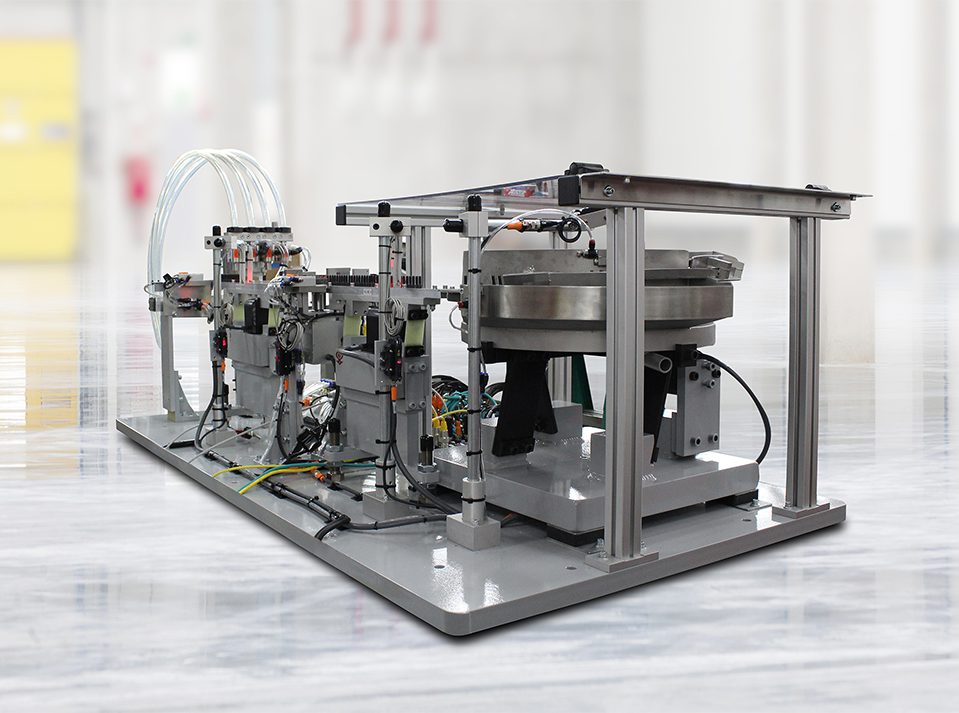 The vibratory feed system pictured was designed to feed an M6 Flat Head Fastener at 40ppm, rejecting wrong length screws and delivering a count of four fasteners of the correct length to the customer's receiving system. A laser sensor inspection station was integrated into the system's feeding process to ensure 100% accuracy of part length at the final presentation.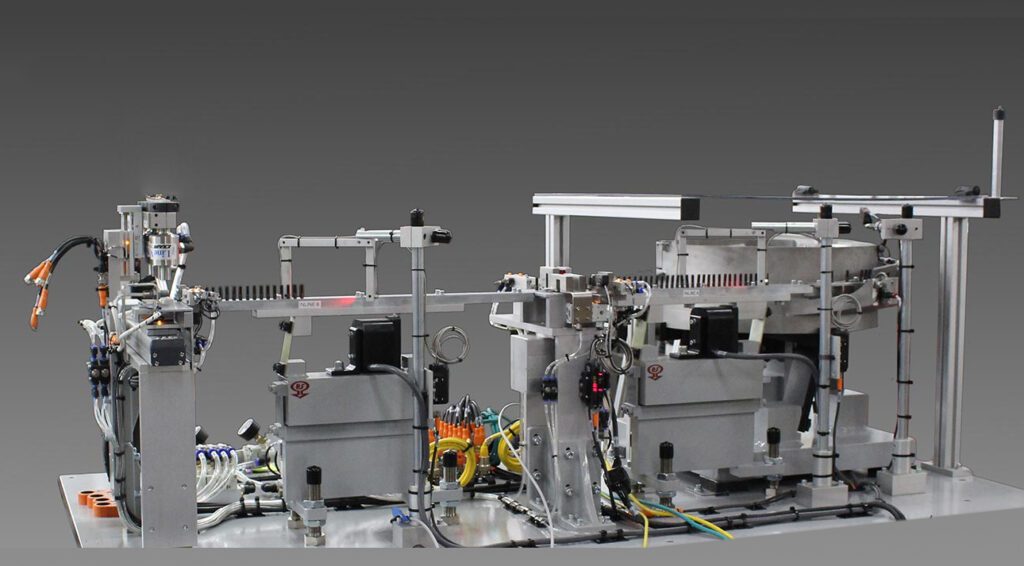 The vibratory bowl feeder included a bowl level sensor to alert for the need for a new supply of parts. The parts were oriented in the bowl, threads up, to feed into a linear track as they discharged from the bowl
A high track sensor detected the presence of parts within the track and maintained the part supply transferring to the rotary indexer for inspection
The sorting indexer rotated counterclockwise with 8 indexing positions. The first indexing position received the fastener from the track. The part was positioned to allow the Part-in-Place sensor to detect the part and activate the hold back finger on the high track to retain the next part in queue.

The indexer rotated 45° to bring the part to the second indexing position.
The height detection laser sensor qualified the length of the fastener. The part was removed by the rejection finger at the third indexing position if it was out of the acceptable height range. The height detection sensor maintained a bad part bit in memory triggering the 3rd position slide to eject incorrect length screws through a rejection chute.

Qualified parts passed through the 4th indexing position to a loading position in the final indexing slot where the part transferred to the second linear track.
The second linear track queued the qualified parts for transfer into the 4-pocket sliding linear indexer at the end of the system.
A holdback finger at the end of this second linear track, triggered by the proximity sensor detecting a part present in the receiving sliding indexer, allowed one part at a time into the indexing slide which loaded a count of 4 screws.
Once 4 fasteners were secured, the indexing slide moved into position beneath a second linear slide with 4 vacuum heads. This slide lowered the vacuum heads to encase the fastener bodies.

The part confinement retracted away from the screws allowing the parts to be vacuumed through transfer tubing to the customer's system.
View this short video that demonstrates the vibratory feeder bowl orienting the parts prior to inspection. Improperly oriented parts are detected by the rotary inspection system and are blown back into the bowl for recirculation. Correctly oriented parts are fed into the straight line track which transfers the parts to the customer's assembly station.
System specifications
Feed Rate: 45 parts per minute.
Input voltage: 120V/60 Hz.
Vibratory bowl:

18″ Bowl diameter.
Clockwise rotation.
Stainless steel construction.
Purge gate.

Tracks:

18″ and 24″.
Steel, heat treated & plated.
2-spring vibratory inline driver.

Staging/Measuring components:

Rotary and linear indexing mechanisms.
Quad vacuum tube part delivery.
8-position qualifying station.
Hardened and plated tooling.
2 Vibrating linear tracks.

Sensors:

Part in Place (PIP) sensors
Laser measuring sensor

Mounting surface: Common baseplate