Big Changes Afoot In Food Packaging Automation
There are significant changes coming to the way consumers purchase and consume food over the next 15 years – and packaging automation will have to change rapidly to meet these new demands. Changes in consumer preferences include:
On-the-go eating has consumers looking for portion control and convenience in bite-size, flavorful foods.
Evening and relaxation foods with quick preparation times are growing; however, consumers look for a full-meal experience with weekend cooking.
Clean labels – 37% of U.S. consumers find it important to understand ingredients on food labels. 91% believe that products with recognizable ingredients are healthier.
The rise in organic food demand has fueled ~10% annual growth in organic foods, although organic food sales make up only about 5% of the total market. There has been a surge of growth in organic products since 2012 and this is expected to continue as millennial shopping habits begin to dominate the market.
Food trends show continued growth towards convenience and healthy choices with snacks being a prime avenue for growth. Many of these trends – especially the move towards more products being packaged as snacks – require that food manufacturers look to flexible machinery to create efficiencies on their assembly lines. A recent report by PMMI describes significant changes that are occurring in the food packaging industry including:
4 of 5 companies have more than 100 product SKUs and over half predict SKUs will continue to increase, driving the need for faster changeover.
3 of 4 companies measure OEE and look for reliable machinery to improve uptime.
Half of companies are focused on increasing the level of automation in the next three to five years.
Robotics are now used in 30% of processing operations and 94% of packaging operations, with both areas predicting increased usage.
End users recommend processing machinery improvements that focus on cleanability, flexibility in changeover and operator safety.
Over half of food manufacturers use customized equipment and look to the OEM for integration.
80% are using vision systems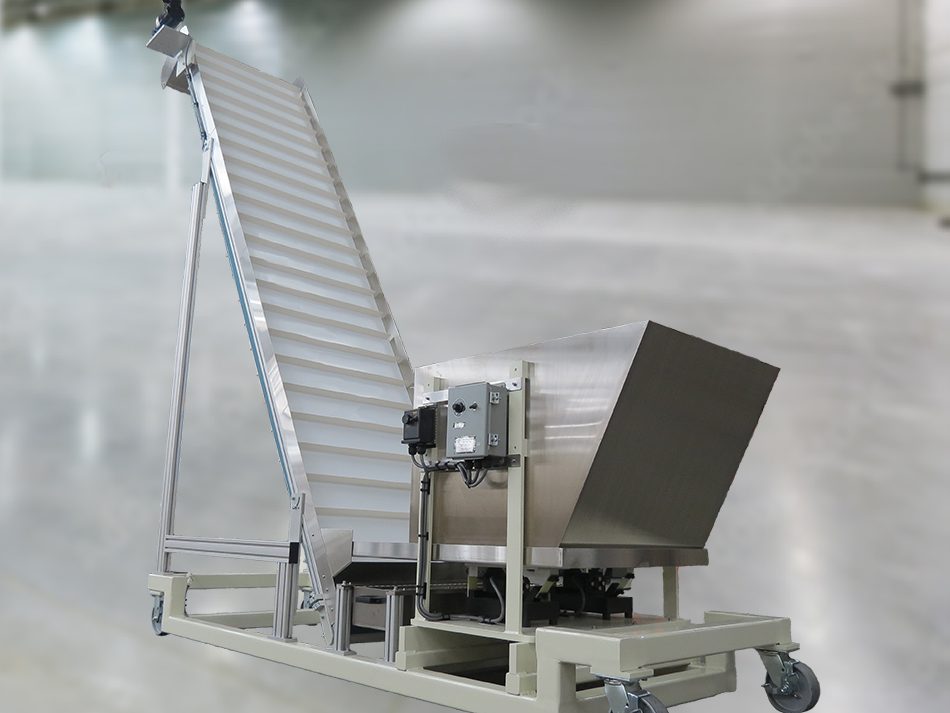 Performance Feeders has certainly seen an uptick in requests for flexible automation solutions that reflect the changes afoot in the food packaging market. We recently worked with a food manufacturer who needed to move a whole-grain snack product to a packaging operation, which required the product to be delivered 10′ off the floor. The manufacturer needed bulk product storage at floor level and a way to remove as many small and broken pieces of product as possible before moving into the packaging operation. The system integrated a number of custom components including an FDA-approved cleated incline belt conveyor, a stainless steel hopper with perforated discharge area for small particle removal, and casters with FDA-approved wheels which increased the portability and flexibility of the system.
LEARN MORE ABOUT THIS INTEGRATED FOOD PACKAGING SOLUTION
Our expertise in both food packaging automation and systems integration make Performance Feeders the ideal choice to meet the rapidly changing demands of your food packaging assembly lines. Our engineers and production facility are located in Oldsmar, Florida with distributors throughout the United States and Mexico. We look forward to working with you to design integrated systems that give you the reliability and flexibility to meet the challenges of this rapidly changing industry – get in touch with us today!