Medical Parts Vibratory Feed System
Jump to: Video || System Specifications || Quote Request Form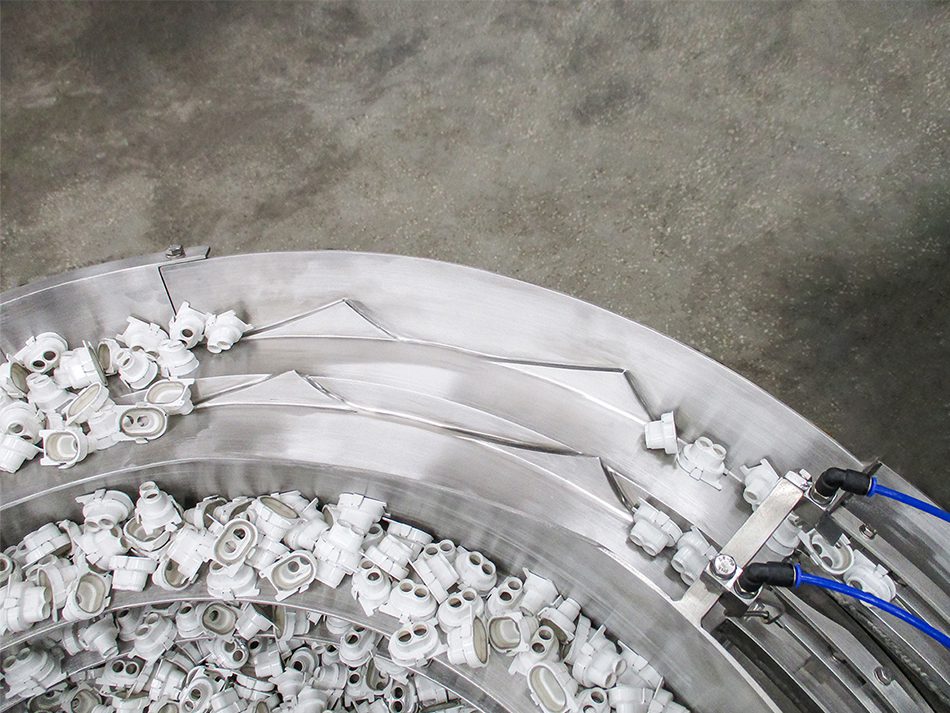 Product orientation continued to the extent that it could be done mechanically. Product fed through the internal tracking to exit that bowl wall feeding into the orientation tooling.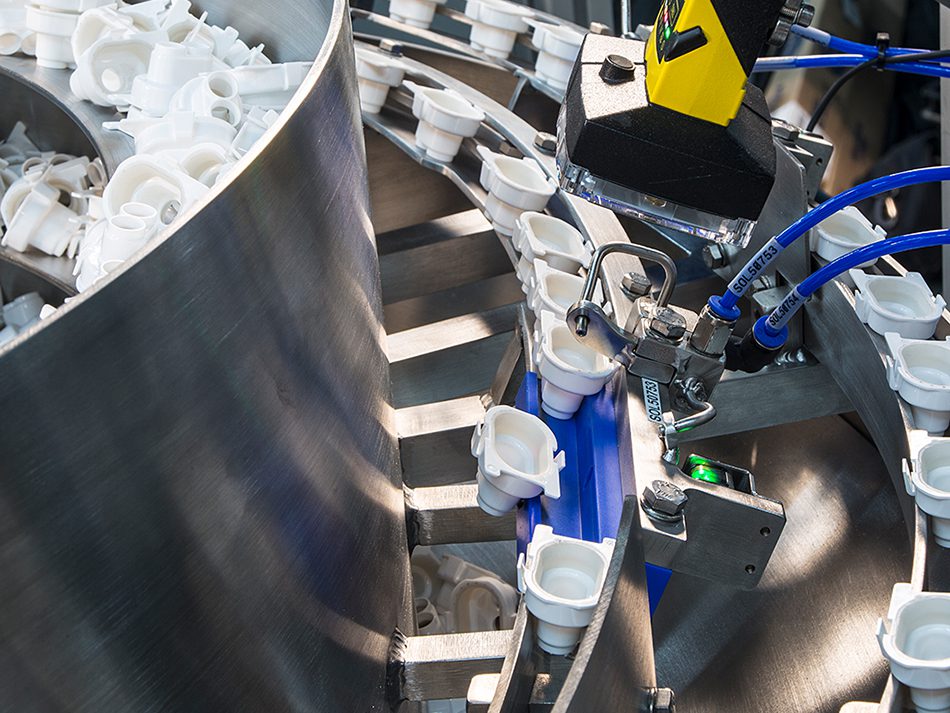 Vision systems were mounted over each lane of the vibratory bowl tooling right before the discharge to inspect the leading-edge orientation. A proximity sensor detected when the product was in position and told the vision sensor to inspect the product. If an improperly oriented part was detected, the PLC that controlled the vision system activated an air jet which blew the part off the track and back into the bowl feeder for recirculation.
Properly oriented product continued through the inspection areas and into the dual lanes of the Performance Feeders Timing Belt Conveyor which carried the product to the next operation in the assembly process.
System specifications
Feed Rate: 85 parts per minute per lane.
Input voltage: 208V, 60 Hz
Dual Lane Vibratory Bowl:

27″ basic diameter.
Clockwise rotation
Double welded and ground product contact areas with electropolish finish

Dual Lane PFI Timing Belt Conveyor:

106″ long with lanes on 50mm centers.
All product contact surfaces are Stainless Steel or FDA-compliant materials.
Quick access top confinements with spring tension latches.

PFI Bulk Supply Hopper:

5 cu. ft. floor mounted PFI Vertical Elevator.
Electro Polished Stainless Steel and FDA compliant materials of construction.

Vision System: Cognex Vision Sensor with proximity sensor
Controls: REOVIB MFS 268 Controller with AB point I/O.
Mounting Surface: 1.25″ thick steel table with heavy-duty frame and leveling screws.
Sensors and Valves Provided:

Photoelectric sensors on PFI Timing Belt Conveyor monitoring part level in the
tracks. When a track is full, a valve is activated for that lane and blows parts back
into the system. If both tracks are full the bowl is turned off to prevent parts from
recirculating constantly.
Proximity sensor on hopper monitoring parts level in bowl, turning on hopper when parts are needed.
Proximity sensor on bowl feeder in camera area, sensing part in place for vision inspection.
Solenoid valve package with regulator and flow controls for air jets.