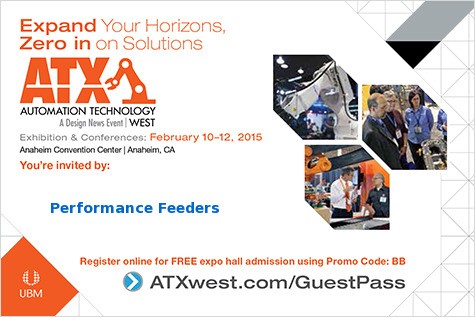 We are pleased to offer complimentary admission to the ATX West Expo (a $95 value). Join us February 10-12, 2015 at the Anaheim Convention Center in Anaheim, CA. ATX West is a premier automation expo that offers direct acccess to hundreds of the industry's leading suppliers, the latest products and technologies, prime networking opportunities, comprehensive educational content, and much more.
Simply click the electronic invitation above to register. You can register online using source code ET, or print the invitation out and bring it with you to the event for free expo admission.
Visit us at booth 4485, where we will be exhibiting the latest in parts feeding technology. We hope to see you there!