Space-Saving Hoist Elevator
The Performance Feeders hoist elevator is a space-saving bulk parts elevator that allows parts to be loaded at an ergonomic height and discharged at heights up to 84". With a 24" x 36" footprint and vertical lifting, the hoist elevator takes up much less floor space than other bulk elevators.

How it works
The operator loads parts into the bin, closes the loading door, and operates the elevator with the handheld pushbutton controller. Safety features include an interlock switch on the load door that prevents operation of the elevator when the door is open, and an emergency stop button.
Download Hoist Elevator Product Information and Specifications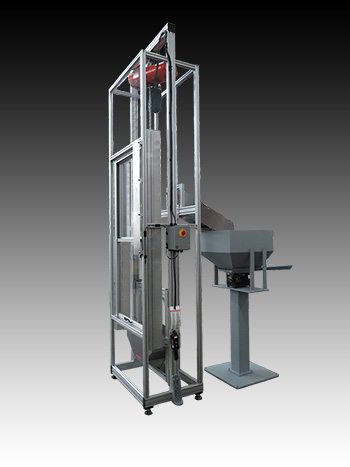 Hoist elevator shown discharging into vibratory hopper (not included).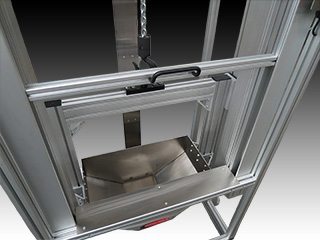 Part loading area shown with loading door open. The elevator is equipped with an interlock switch on the door that prevents the hoist from operating unless the door is closed.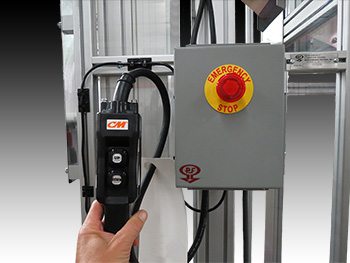 The hoist elevator is operated with a hand-held pushbutton controller and includes an emergency stop switch
Features
Stainless steel bin and discharge chute, available with UHMW lining for part protection.
Extruded aluminum frame with clear Lexan panels.
Ergonomic load height allows loading without operator having to bend over or lift boxes overhead.
Handheld operator controls with simple pushbutton operation.
Emergency stop button.
Interlock safety switch on load door that prevents operation of elevator with load door open.
Standard specifications
Input voltage: 110, 220 or 440V AC
Bin capacity: 2 cu. ft.
Weight capacity: Up to 300 lb.
Lift speed: 32 FPM
Load height: 28"
Discharge height: Built to specification. 48" minimum, 84" maximum
Downloads
   Performance Feeders Brochure
   Performance Feeders Tri-Fold Brochure
  Hoist Elevator Brochure